Why We're Special! 
Cary's very own Cheers N Paint is unique to the paint and sip market because we aren't a franchise. Instead, we are independent, family-owned, and operated.  
Why would this matter to you?  Not being part of a franchise means our friendly family and exceptional staff at Cheers N Paint are here to listen to your specific needs and are flexible enough to arrange a private paint event just for you!  We thoroughly enjoy making your time with us fun as well as a positive learning experience.  We love teaching art and encouraging everyone who walks through our doors to find their "inner artist" – we know it's in there!  Cheers N Paint always values you as our customer, and we promise to always work hard to make sure you, your friends, and your family have a great time with us in our beautiful studio that you'll want to return to again and again.  
Cheers N Paint happily offers in-studio public paint and sip events, kids' art classes, summer camps, and other DIY craft parties (our Chunky Blanket classes are a hit!).  Or, if you prefer, we can arrange private painting parties at a place of your choosing.  Paint parties are fun, affordable, and always customized to suit your style!
Unlike other large franchise paint and sip businesses, you can reserve our top-notch studio for a personalized paint party for as few as eight painters and ten for an "at your place" private event.  Celebrate any occasion!  Be it a birthday, anniversary, graduation, sorority or college event, bridal party, baby shower, or team building event.  Perhaps you want to have a TGIF night with a group of friends looking to spend time together doing something different.  Have a new addition of a furry friend to your home?  Our "Paint Your Pet" classes would be a fun event for the whole family!  No matter the occasion, our paint parties are great for all ages and artistic abilities – making it a perfect way to bring folks together.
The Cheers N Paint studio is charming, comfortable, and has plenty of room for you and your party to spread out and socialize while creating your personal masterpiece.  Our fun artist instructors will expertly lead you through the creative process and ensure everyone's having a great time.  You are welcome to bring food and drinks (including beer, wine, seltzer, and cider) and decorate to complete the perfect atmosphere for your party.  Our hospitality table has plenty of space to spread out and make it your own – from simple chips and dip to catered platters;  the choice is yours!  You can even arrange extra time in our studio to socialize for a small additional fee.  Best of all, the mess stays with us, and you are left with your memories of a great time and your unique piece of art as a "favor" for the day.  
 Are you still looking for something EXTRA special?  We've got you covered!  Cheers N Paint can help design a custom canvas just for you for an additional fee. We've done custom canvases to celebrate a birthday with a "Day in Paris" theme, and some law school grads made their own briefcase canvases as they started their new careers.  The sky's the limit!
Our friendly family and cheerful staff always have the "right stuff."  We take pride in the credentials of our professional artists, teachers, and seasoned business executives.  So make the most of our love of art, professionalism, and desire to make our adorable studio a place for you.
We look forward to seeing you soon and creating YOUR memory with paint!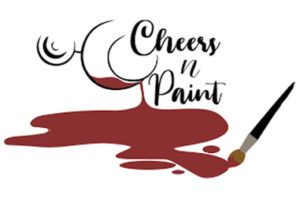 2773 NC Hwy 55, Cary, NC 27519