Time Out 4 Art – School's Out Camps
TIME OUT 4 ART – Track Out Camps & Classes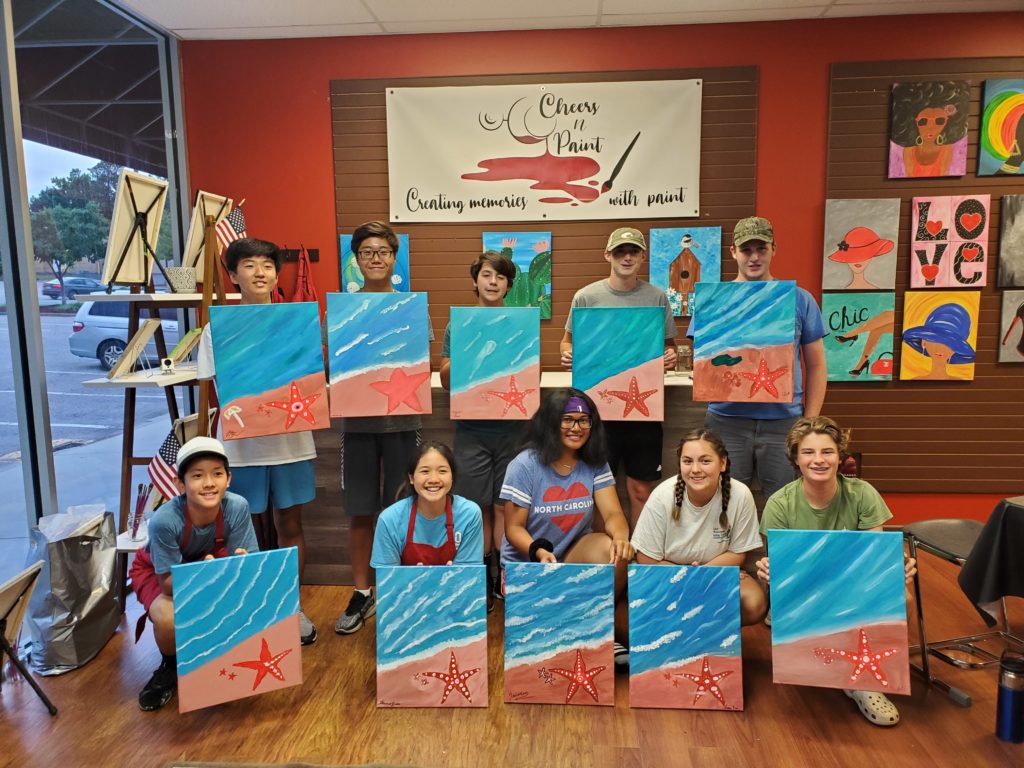 School's Out forTracked Out weeks,  Holiday Break, Vacation, or a Home Schooler???
Then this is a unique opportunity for students to have fun and stay busy during track-out weeks, holiday breaks, vacations, or to add some spice for homeschoolers. These art and painting classes are just for them!
Paint, draw, sketch, and more in our kid-friendly, spacious art studio. Art classes are designed for kids age 7+ who love art and want to spend time creating and learning new artistic techniques all while having FUN!
You'll spend each day creating art pieces guided by our professional staff.  Class size is limited to give each artist individual instruction based on their ability. Out spacious studio gives kids plenty of room to create.  We provide all the materials you'll need to create your masterpiece.
Trackout camps – art classes are designed for kids age 7 and up who love art and want to spend time creating and learning new artistic techniques all while having FUN!
CAMP MAY BE CANCELLED IF A MINIMUM NUMBER OF CAMPERS IS NOT REACHED.  YOU WILL BE NOTIFIED THE WEDNESDAY PRIOR TO THE CAMP START DATE.  IF CANCELLED, FEES WILL BE REFUNDED.
Professional staff, instructing small classes.
All art supplies included.
Select either the 5 or 3-day option, whatever best fits your schedule:
–        Weekly session Monday through Friday for $160/week 9:00 am-Noon
–        Mini session on Monday, Wednesday  & Friday for $120/week 9:00- am-Noon.
–        Multiple weeks and/or sibling discounts available.
Cheers N Paints is conveniently located in Cary at the intersection of High House Rd and RT 55.
Childrens Painting in Cary with Cheers N  Paint
Little Splatters
We are a family-owned and operated studio. Our daughter Lauren (who is one of our favorite artists and instructors!) started taking painting classes at age 9 with a local artist. She loved these classes, painted as she grew up, and eventually studied art in college. She also studied elementary education and worked many summers as a camp counselor for elementary-age children. Her love of art and teaching encouraged us to buy Cheers N Paint and to create the Little Splatters Kids Classes. Our other instructors share this love of art and teaching children. You can feel their excitement in every kid's class offered.
As a result, our Little Splatters paint classes have been a big hit! Many of our customers are bringing their children back for a second and third class. Since the Little Splatter classes are so popular, Cheers N Paint is now offering a monthly membership to encourage our "little artists" to attend weekly classes at a discounted rate. Beginning October is launching Splatter Stars, a monthly membership program.
Here's how the Splatter Stars program works; sign up for the month ($75) and you can paint four canvases for the price of three. A new painting each week, two distinct class times in-studio or live virtual offered on Wednesday (5-6 PM), Thursday (5-6) and Saturday (11-Noon). Every week brings a new piece of art, so your child never paints the same piece twice, in fact, our artists are always creating masterpieces that get added to the calendar.
We love children and families plus as parents of 5 children we know what it means to work inside a budget, so we are happy to offer a sibling rate of $60 for a second Splatter Stars monthly membership. If you have more than two who want to paint give us a call and let's see what we can work out.
Little Splatters Art Gallery