Little Splatters Kids Painting Class, Cary NC Art Classes Your Kids Will Love
Painting Classes for Kids Ages 6 & Up!
Discounted Memberships Available!
Let's have FUN together creating a masterpiece!

Little Splatter Paint Classes – $25 per week
Wednesday
OR
Saturday each week
THE WE HAD KIDS TOO OFFER
Discounted Monthly Membership $75.00
(4 classes per month)
Discounted Sibling Memberships $60.00
(4 classes per month)
Cheers N Paint art studio is thrilled to be offering Little Splatters, kids painting classes in Cary NC, recommended for kids age 6 and above.
Paintings we offer will be kid-friendly and allow our littlest artists to have fun while learning the basic principals of painting.
Our motto is "creating memories with paint". To achieve that we offer art classes that appeal to all age groups and abilities. Our talented and creative artists will look to bring out your child's creative talents, teach them basic art skills all while ensuring a safe, supportive, and FUN learning environment. Every class will provide a new gift for that special person in your child's life or a personal creation to hang in their room and another step toward a lifetime relationship with art.
Little Splatters KIDS paint classes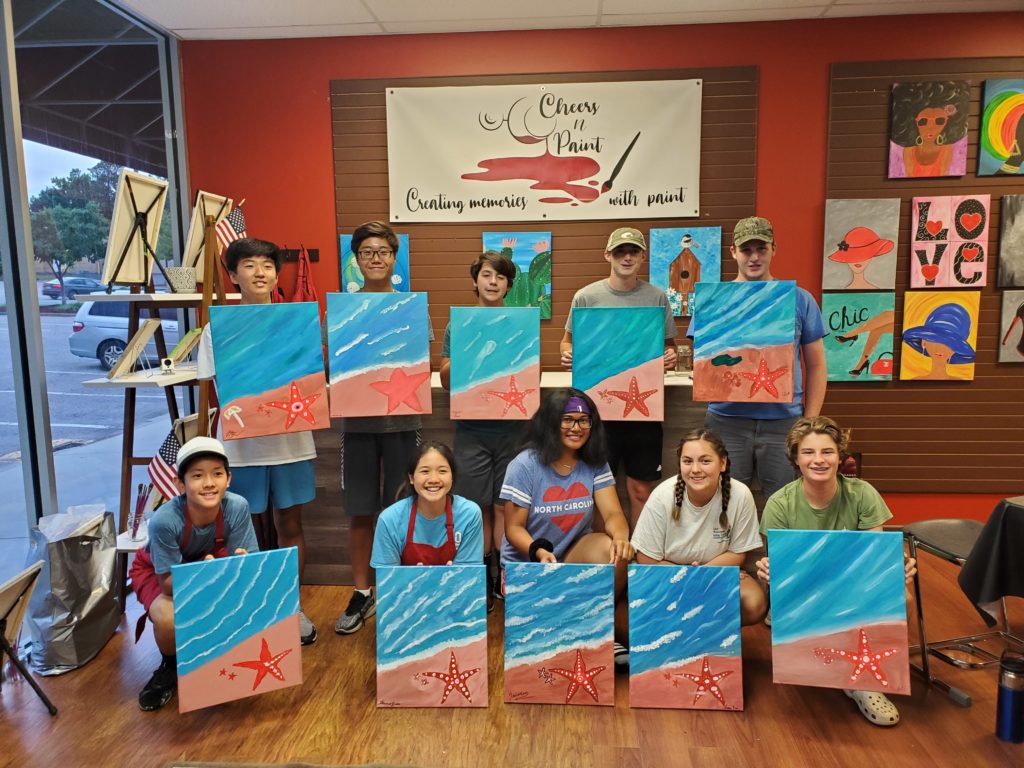 Little Splatters paint classes are offered both in our spacious art studio which is conveniently located in West Cary (At Highway 55 in the High House Shopping Plaza) or through virtual live classes via online Zoom Rooms. Every week is a new adventure with art selected to ensure kids can be successful and have fun, after all, we are here to create memories with paint.
To provide added convenience we offer the same Little Splatters art piece at both our Wednesday afternoons (4:00-5:00 pm) or Saturday mornings (10:00-11:00 am) classes. Every painting we select will be kid-friendly and our artist will adapt the paint lessons to the age group in the class.
In-Studio or Live-Virtual, Cheers N Paint will supply our "Little Splatters artists" with everything they need to complete their painting including paint, brushes, 11 x 14 pre-sketched canvas, mixing plate, and a water cup. If you decide to paint at home, art supplies will be available for pick up at our studio conveniently packaged in individual "to go" art kits.
Our # 1 goal in creating memories with paint is FUN, FUN, FUN but there are other pluses to paint classes for kids. We teach and apply age-appropriate examples of the seven fundamentals of art: lines, shapes, colors, value, form, texture, and space. Children learn brush strokes, using 3 different brush sizes in class. They develop fine motor skills by handling paintbrushes. They become active listeners and learn how to follow step by step painting instructions.
Our artists love what they do and enjoy teaching art, they promote creativity and always provide positive feedback to all our "little artists". You can often hear them exclaim there is no right or wrong, every artist has their own style.
CHidrens PAinting IN CAry With Cheers N Paint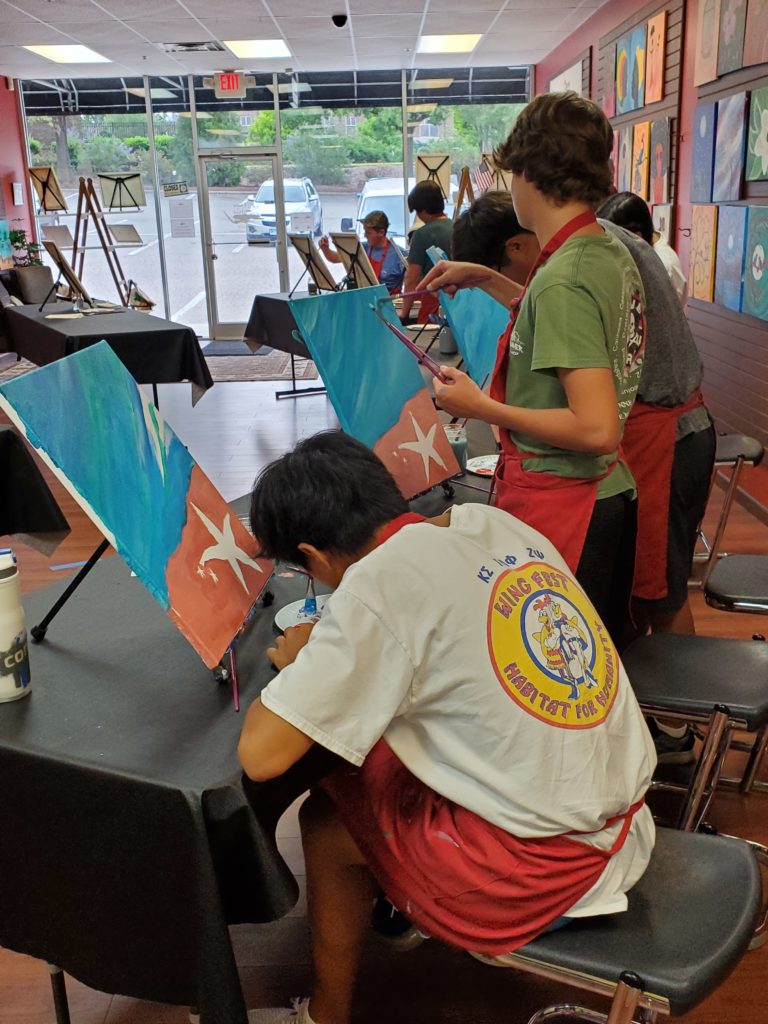 We are a family-owned and operated studio. Our daughter Lauren (who is one of our favorite artists and instructors!) started taking painting classes at age 9 with a local artist. She loved these classes, painted as she grew up, and eventually studied art in college. She also studied elementary education and worked many summers as a camp counselor for elementary-age children. Her love of art and teaching encouraged us to buy Cheers N Paint and to create the Little Splatters Kids Classes. Our other instructors share this love of art and teaching children. You can feel their excitement in every kid's class offered.
As a result, our Little Splatters paint classes have been a big hit! Many of our customers are bringing their children back for a second and third class. Since the Little Splatter classes are so popular, Cheers N Paint is now offering a monthly membership to encourage our "little artists" to attend weekly classes at a discounted rate. Beginning October is launching Splatter Stars, a monthly membership program.
Here's how the Splatter Stars program works; sign up for the month ($75) and you can paint four canvases for the price of three. A new painting each week, two distinct class times in-studio or live virtual offered on Wednesday (4-5 PM) and Saturday (10-11 AM). Every week brings a new piece of art, so your child never paints the same piece twice, in fact, our artists are always creating masterpieces that get added to the calendar.
We love children and families plus as parents of 5 children we know what it means to work inside a budget, so we are happy to offer a sibling rate of $60 for a second Splatter Stars monthly membership. If you have more than two who want to paint give us a call and let's see what we can work out.
Contact Cheers N Paint at 919-995-6238 or Email Us for more information or to sign up for your Splatter Stars membership.
Check our calendar to sign up for individual kids paint classes and view paintings currently being offered.