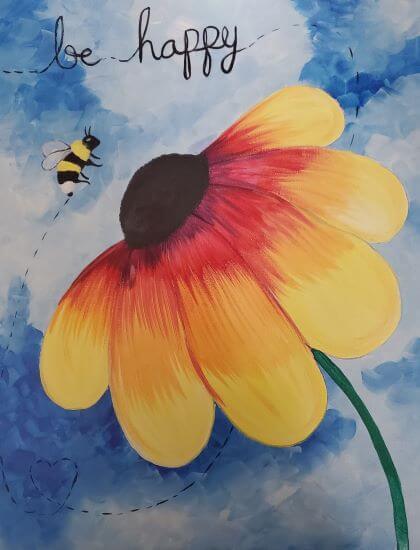 Join us on Wednesday, July 20th and Thursday July 21st from 5:00 pm to 6:00 pm or Saturday July 23rd from 11:00 am to 12:00 pm.
Little Splatters Kids Paint Classes are designed just for kids!  Cheers N Paint added new paint classes to our studio because our daughter, one of our teaching artists, learned to paint when she was a child at a local art school.  That love of painting grew into a career and we wanted to give kids the same chance to develop a love of art.
Our Little Splatters Paint Classes are recommended for kids 6 and up, who love art and want to learn how to paint!  Kids learn to sketch their own canvas and then paint their masterpiece.  They learn basic art skills and new art techniques each time they paint a canvas.
Our art studio offers a different, kid-friendly painting is each week.  Classes are on Wednesdays and Thursdays from 5:00 pm to 6:00 pm and Saturdays 11:00 am to 12:00 pm.  We are flexible and members can come to whichever classes fits your schedule that week. Each class includes a 11 by 14 canvas, art supplies and instruction all for $25.  Paintings are done in acrylic paint.  Painters are welcome to come to the studio in person (limited to 15 students for safety and individual attention) or join the live classes virtually through our Zoom room.  Memberships and sibling discounts are available, paint three classes and get the fourth class free. New members always welcome.
Join us at Cheers N Paint 2773 Highway RT 55, Cary, NC  27519.