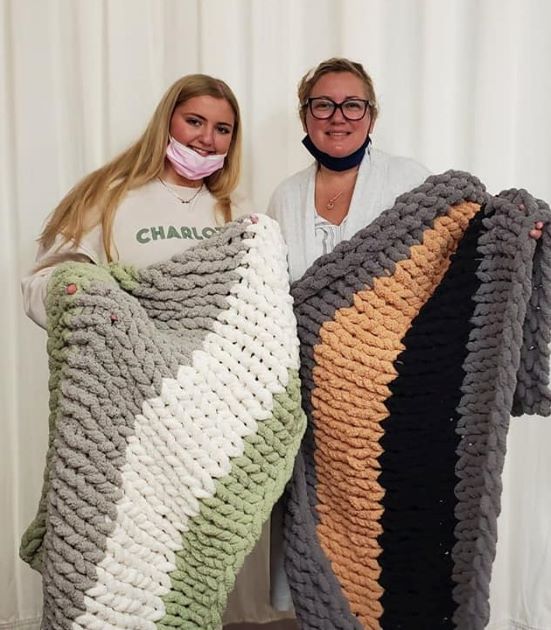 Join us Sunday, March 26th from 3 to 6 pm for our popular DIY Chunky Blanket class.
Our professional instructors guide you step-by-step to create your very own soft, snuggly, chunky blanket!! No experience or knitting needles required.  We keep our class sizes small to ensure everyone receives individual directions to complete their chunky blanket.
We provide high quality chunky, chenille yarn in a variety of colors.  Yarn colors may be limited and are available on a first come, first serve basis. Doors open at 2:30pm and we recommend you come at least 15 minutes before class time to select your yarn and get settled.  Your completed blanket will measure approximately 40×60 inches.  Additional skeins may be available for purchase.
Our spacious studio is family-friendly, and we offer paint classes during the day and evening to fit your schedule.  Typically, our evening classes are best suited for ages 16 and up.  Afternoon classes are offered for younger children.  A paid adult must accompany children 14 and younger to a class.  For afternoon classes, an adult may bring children under 14 without paying for a class, however a fee is required if the adult paints.  Studio seating is limited for your comfort, safety and to allow for personalized instruction
Please note we do not offer cash refunds once tickets have been purchased.  If you cannot make the class tickets are transferable IF studio is contacted not less than 24 hours in advance of event.
Enjoy your time at our spacious studio, relax and create.  Our goal is to help you create memories!
The Cheers N Paint art studio is located at 2273 Highway RT 55 in Cary, NC 27519.